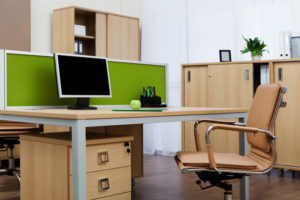 If you've recently managed to start your business, then you deserve a genuine pat on the back! Achieving this first step of many more to come is crucial to your future success as a budding entrepreneur.
The next step in expanding your business activity is to recruit more staff as you begin to realise you can't handle everything alone. And if you're planning on getting more employees on board, it's only prudent to have a least some minimal office space to cater to all your daily business requirements. If you're planning on setting up your own office rather than going for serviced office options, it's wise to make a checklist of all the office furniture and equipment you'll be needing so you can make an investment in this key aspect of your company.
Here are some of the basics to get your new offices up and running smoothly from the get-go.
Desks, Chairs and Shelves
Probably the very basics of any office, whether big or small, we won't go into the finer details of the types of office furniture you should purchase as we could write a book about it! However, we will say this: keep in mind that investing in ergonomically suitable furniture will save you and your employees a lot of future hassle. If you want to save money and are handy with DIY, go for flat-packed options for shelves, desks and cabinets and buy in bulk.
PCs and Internet System
In today's digital times, most forward-facing companies prefer to store and distribute the bulk of business information online. Computers and laptops have become essentials for any office's basic functioning, facilitating communication and data storage. Hence why you should do some proper research before going out a whim and purchasing the first items you come across. Go into the specs and evaluate different software solutions to ensure you're getting the best value for your money.
Additionally, it almost goes without saying that having a strong internal network system and internet connection is imperative to maintain a flow of uninterrupted business activity. Go for the most reliable service provider available to ensure you have your bases covered.
All-in-One Printer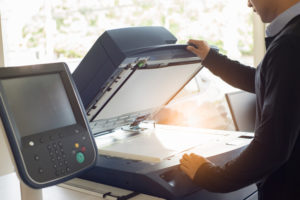 While it's true that most modern businesses prefer to store and share information electronically, the majority of companies also appreciate the option of having a physical copy to peruse and handle. Investing in a heavy-duty, multifunction office machine that can print, scan, photocopy and fax will make it the holy grail of your offices. Even if you think that your business is currently too small to warrant such a fancy (and pricey) gadget, it's a good investment that will serve you for years to come, as your business continues to grow. Don't be cheap – but do shop around to make sure you get the best deal.
Telephone System
While some may view a standard telephone system as being slightly outdated what with most people running around with smartphones nowadays, it's still a good idea to invest in a company phone with its own separate line. Your personal line may be working for you at the moment, but as your operations start to expand, your primary means of communicating with clients, suppliers and potential candidates should be through a specific number registered to your company.
Basic Office Stationery
Set a small amount of your office budget aside for basic stationery and smaller equipment. Consider things like different sizes of paper, envelopes, postage stamps, diaries, pens and business cards. Having your offices readily stocked with these essential items is a sure sign of a well-organised office.
While these initial purchases will set you back in terms of expenses, investing in the right stuff the first-time round will save you and your business a lot of time and money in the future. Increased productivity and energy efficiency are just two examples of the long-term benefits of suitable office equipment. Equipment which is easy to use and better quality will definitely outweigh any initial costs.