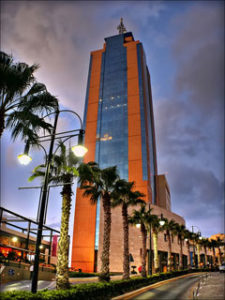 Portomaso
office space
is available for companies looking to set up or relocate to a high-end business address on the Maltese islands. Located In the heart of
St. Julians
, the
Portomaso Business Tower
is a landmark in the centre-eastern map of Malta. It stands 97 metres tall – Malta's tallest building to date. The Portomaso Tower was built to offer a premium office environment to compliment the luxurious Portomaso Complex and marina. The tower is visible from most towns and villages in Malta and is home to some of the island's finest companies; many of which, have been set-up in Malta for a number of years.
Portomaso Office Space Neighbourhood
Since the Portomaso project kicked on in the mid 90's, the St. Julians area between Spinola bay and Paceville has seen an overall increase in commercial developments and increased tourism, employment opportunities, and residency options.
St. Julians is traditionally known as an entertainment hub, and rightly so. The seaside town is full of bars, restaurants, cafes and other entertainment venues. It is also home to the highest concentration of five star hotels, and is serviced to cater for all kinds of business.
More recently, St. Julians has started to attract many operations that partake in trending and upcoming industries serviced from within the local business environment. This includes industries like banking & finance, international trade, online services, e-payments, online gaming and aviation. The increased interest on a national scale has arisen mainly as a result of Malta's geographical positioning and conditions, tax incentives, low labour costs, language fluency, and overall healthy business environment.
Features of Portomaso Office Space for Rent
Portomaso office space for rent is at the pinnacle of commercial property in St. Julians. Due to the limited supply of office space, it is uncommon for free space to be available in the Portomaso business tower at any given time. When office space does come on the market, it is normally offered to operations who had previously expressed interest. In most cases, it gets snapped up before current tenants have had time to move out.
Portomaso office space mostly consists of areas just shy of 300m2 per floor. The lower six floors, however, afford larger spaces in excess of 450m2. For convenience, underground parking is available, and there is also a reception desk open 24/7.
The ground floor of the Portomaso tower is home to Arkadja – The largest, and most well-stocked supermarket in all of St. Julians. At the -1 level, the Portomaso Casino provides hours of entertainment to Portomaso residents, as well as many local and foreigners passing through.
Portomaso office space occupants also get to enjoy the Portomaso Business Tower's very own club lounge/nightclub at the 22nd floor, aptly named 'Level 22". A great spot for unwinding after a day at work, the club also enjoys a panoramic view from its prominent stance in Malta's nightlife & entertainment hub.
Looking for Portomaso Office Space? Request a callback and we'll get in touch right away.