The Entertainment Heart of Malta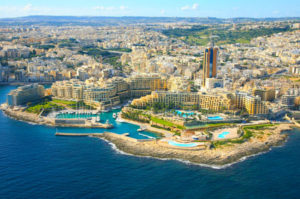 St. Julians is best known as the entertainment capital of the Maltese Islands, and features well-known locations including 'Paceville', 'Spinola', 'St.Georges' and 'Dragonara'.  The area is overflowing with foreigners during the hot summer months making this a prime location for tourist-based services, as well as entertainment outlets.
Find your St. Julians Office
St. Julians as a Work Destination
St. Julian's is not just limited to entertainment though.  St. Julians office space supply has caught up with the steep increase in demand experienced in the last decade.  Cutting edge business centres and multi-level open plan office space is now available for the hundreds of international operations that have started to migrate to Malta.  Since St. Julians is primarily a residential area and is also surrounded by neighbouring Sliema, San Gwann and Swieqi, which are all heavily populated residential areas, apart from St. Julians office space, there are also a number of commercial outlets, and thousands of residential units in the surrounding areas.
St. Julians for Office Space, and as a lifestyle
St. Julians features numerous bars, clubs, discotheques, as well as restaurants, apparel stores, and the like.  The city also enjoys its own mall complex which goes by the name of 'Baystreet' and is situated in one of the busiest areas of the sub-location Paceville – best known amongst night-goers.  Baystreet is a popular destination for shoppers, and it is also a favourite with families thanks to the performances and activities that take place there.
The city of St. Julians is jam-packed with commercial property outlets which come in the form of cafes, bars, restaurants, shops, and offices.  The city also boasts the highest number of hotels per square metre in Malta and is a favourite amongst most of the workforce who make part of the bustling igaming industry.
Portomaso Offices in St. Julians
St. Julians Office Space standards have been raised thanks to the  Portomaso Business tower – a tall skyscraper building which has 22 floors of mostly office space.  This is one of St. Julian's most demanded addresses and Portomaso office space is probably the most sought after in all of St. Julians, Sliema, Gzira, and Msida.
If you're looking to rent St. Julians office space for your operation, simply request a callback.