Office Space in The Entertainment Heart of Malta​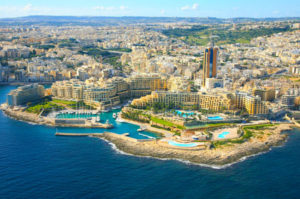 St. Julian's Office Space for rent & for sale in Malta's top entertainment district? This seems to be a highly popular choice for  international companies that set up business in Malta, including finance companies, online gaming companies and international trading companies looking for office space in one of Malta's top destinations.
Menu -

St. Julian's Office Space
Find your St. Julians Office
St. Julians as a Work Destination
St. Julian's is not just limited to entertainment.  St. Julians office space supply has caught up with the steep increase in demand experienced in the last decade.  Cutting edge business centres and multi-level open plan office space is now available for the hundreds of international operations that have started to migrate to Malta.  
Since St. Julians is primarily a residential area and is also surrounded by neighbouring Sliema, San Gwann and Swieqi, which are all densely populated residential areas, apart from St. Julians office space, there are also a number of commercial outlets, and thousands of residential units in the surrounding areas.
Sub-Locations for your St. Julian 's Office Space
There are numerous areas that make up St. Julian's with some being more well-suited to the corporate lifestyle and than others. The main areas that may be considered include:
Spinola & Spinola Bay Office Space

Spinola Office Space is highly regarded and one of the most desirable office locations in all of Malta. The offices available for rent and for sale in this area are generally finished to a very high standard and there is a good selection of seafront offices too.
Spinola gets its name from a knight of the order of St. John in the 17th century. Fast forward to modern times and Spinola is one of the busiest and most popular locations in all of St .Julian's.
It has come a long way from its roots as a fishing village and whilst still retaining some of that aesthetic it is now home to some of St. Julian's finest restaurants, most luxurious apartments, and office buildings.
We highly recommend this location in St. Julian's for your office if you're after convenience and some cultural aesthetics that include architecture from the 17th century, like Spinola Palace.
Easy access to pool clubs, rocky beaches, a slip-way, gyms, and lots of residential apartment options make this an all time favourite for companies looking to set up business operations in Malta.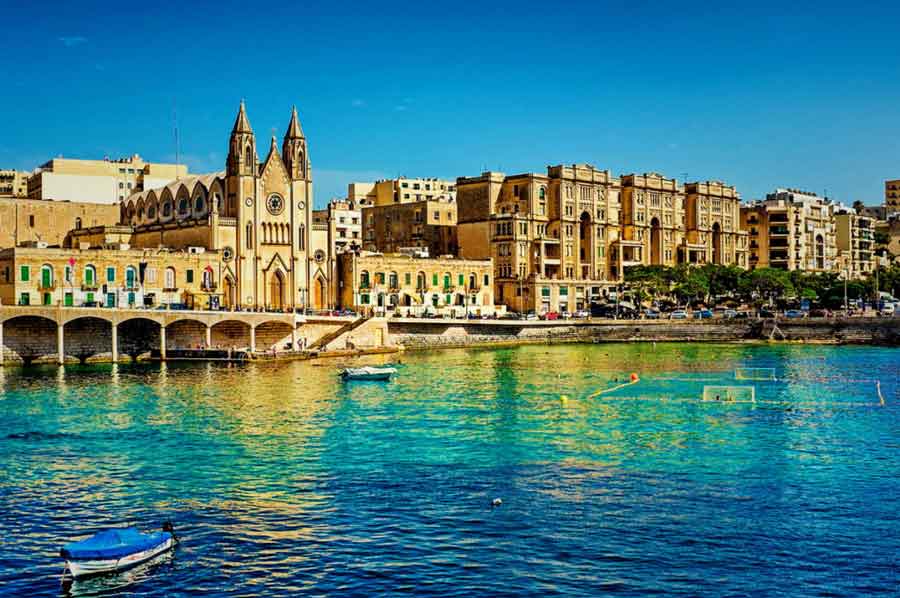 Offices in Balluta are popular amongst companies who would like to be in between Sliema & St. Julian's as this area sits on the border  of St. Julian's and Sliema. 
It is one of the most desirable locations for Offices in St. Julians and especially popular with companies who would like the best of what both towns have to offer.  
Balluta bay is  easily distinguished thanks to its narrow crescent beach, it's neo-gothic Church, and waterpolo pitch.  It is one of the favourite locations for offices in St. Julian's.  Some of it's highlights include:
Its many bistros & restaurants offering Mediterranean food as well as other international cuisines.
Period architecture giving this location a unique Georgian style.
Proximity to 5 star hotels,
Plentiful residential accommodation options,
Some of St. Julians' finest Seafront Business Centres.
Underground Public Carpark
Balluta offers a variety of office space solutions from small offices for a handful of people up to large business centres with a capacity for teams of over hundreds of employees.
St. Julian's Seafront Office Space
St. Julian's Seafront Office space is highly desirable and rightly so.  The offices buildings and business centres along St. Julian's shoreline and in the Popular bays like Balluta, Spinola, and St. Georges provide for office space that is vibrant with an ever-changing and active environment to enjoy.
Seafront offices in St. Julian's are plentiful and companies looking for such space have a variety of options to choose from.  The grade of these offices varies and one may find offices all across the quality spectrum, with prices reflective of their quality.
The types of seafront office space for rent or seafront office space for sale in St. Julian's include a range of spaces like serviced offices, retail offices, office buildings with individual office floors, and fully fledged business centres with multiple floors and underground parking.  This means that a solution is available for clients with most requirements and reasonable budgets.
Paceville Office Space can offer some of the highest tech office solutions that a company may require. The area known as Paceville is a district in St. Julian's is more traditionally associated with the nightlife areas, where most of the bars and clubs are located.
Most of Paceville has been rebuilt in the last couple of decades and there are numerous new buildings displaying stunning modern architecture. The most prominent of these stand tall and tower over other buildings.
During the day-time Paceville is frequented by thousands of office dwellers who happen to work in the numerous office buildings and business centres that occupy some of the streets in this vibrant locality.
At night-time Paceville comes to life as Malta's prime entertainment district, and can get especially crowded during summer nights when the islands are at their peak tourist season.
Parking solutions are numerous as public car-parks offer membership options for office dwellers who may pay for yearly membership according to their usage, being five days a week during office hours, or 24/7 access.
St. George's Office Space
St. Georges Office Spaces present companies a corporate space solution for their teams to enjoy a healthy work-life balance in a highly touristic area of St. Julian's.
With some of the most iconic buildings that Malta has to offer this space, and occupied by some of the most prominent companies in the online gaming industry, St. George's office space for rent tops the highly desirable list of spaces for companies looking to be in St. Julian's.
St. George's Office spaces are surrounded by hotels, retail outlets, cinemas, bowling, family entertainment outlets, and an ever popular beach offering watersports and a sandy spot to sunbathe when the temperatures get too high.
Dragonara Office Space is located in a section of St. Julian's that is surrounded by Hotels and tourist oriented businesses as well as lots of entertainment, and catering outlets. Some of the finest business centres on the islands and located in this area, and the offices here are also some of the most popular and demanded spaces for offices in all the islands.
Offering underground parking, stand-by generators, fresh-air systems, double-glazed and uv filtered spaces, these offices are perfectly equipped for the needs of most modern organisations – some of these, whilst not seafront – even offer views of the mediterranean blue waters.
Portomaso Office Space is located in the Portomaso Business Tower on the outskirts of Paceville and along the part of the St. Julian's coastline has been developed into a luxury development known as Portomaso.
St. Julians Office Space standards have been raised thanks to the Portomaso Business tower – a tall skyscraper building which has 22 floors of mostly office space. This is one of St. Julian's most demanded addresses and Portomaso office space is probably the most sought after in all of St. Julians, Sliema, Gzira, and Msida.
Portomaso Office Space offers companies a prestigious business address and luxury facilities to go with it. Companies looking for office space will have the option of over 20 floors of office space with levels ranging from 300 to almost 500 square metres of luxury office space.
The Business centre is accessed through a manned reception that is open 24/7 and served with multiple elevators. An underground parking area offers office teams the opportunity of parking within the building and accessing the offices easily and conveniently.
The numerous restaurants that make part of the portomaso development, as well as the additional facilities it offers, like the gym, spas, marina, seafront dining, trendy cafes, and the 5 star Hilton hotel make this truly an one-off office experience.
St. Julian's Office Space for work and play
St. Julians is best known as the entertainment capital of the Maltese Islands. The area is overflowing with foreigners during the hot summer months making this a prime location for tourist-based services, as well as entertainment outlets as well as those seeking entertainment and convenience.
The entertainment heart of Malta, as it is often referred to, would not be complete without casinos, a marina, bars, clubs, beaches, watersports, and a host of other facilities that ensure that St. Julian's retains it's reputation as one of Malta's most enjoyable places to visit, or live in.
For this good reason, many companies looking for Office Space often choose St. Julian's over some of the other towns and districts that Malta has to offer. It is not that areas such as Sliema, Gzira, Ta' Xbiex and Valletta are not as suitable for offices – on the contrary, they are among the best that the islands have to offer – yet St. Julian's offers a particular experience that may be exactly that which certain companies may be looking for.
This may be because of the high concentration of 5 star hotels in the area, or the possibility for the office team to unwind at one of the many bars, and clubs in this unique locality. Facilities like gyms, health spas, and everything one could need in their daily life can easily be within walking distance of the office – and this convenience may be hard to find, not just in Malta, but in many cities across the globe too.
Find the best St. Julians Office Space
If you've started to consider St. Julian's as the perfect spot for your Office, keep in mind that with many options available, finding the perfect Office in St. Julians for your company may prove a handful. This may be especially true if you're unfamiliar with the area, or the islands as a whole.
This is why we have come up with this informative guide about finding an office in St. Julian's for your company, whether it is a lease agreement or an acquisition for commercial real estate investment that you're after.
The easiest way to start the search for your offices would be to speak to a highly experienced commercial property consultant who may guide you and answer any questions you may have. This step is really one of the most important ones that you will take when you decide to find an office space for your company as it will save you lots of time and headache, by piggy-backing off the experience of an expert in the field.
Recommended info to facilitate searching for St. Julian's Office Space for Rent
When looking for an Office Space in St. Julian's, some of the most important points to determine include:
Your move in date, approximated to a month.
The size of the office space required in square metres, or expected team members
Expected duration of the office lease
The budget for the office space, either as a monthly / yearly rent or as a rate per square metre per year.
Knowing this information at the outset will help you get faster and more accurate results when discussing your St. Julian's office space requirements with a commercial real estate consultant who may be helping you with your search.
Types of Office Space in St. Julian's
Office space in St. Julian's can take various forms, shapes, sizes, and quality across the spectrum.
The most popular types of offices that we get requests for include:
St. Julian's Retail Offices
Retail offices in St. Julian's or (shop/offices) are predominantly offices that offer some type of client facing services, and may include B2C banks, Insurance operators, estate agencies, and other service type operators where client facing operations and passing trade may have some bearing on the operation of the business.
The main feature that distinguishes these offices from others is that they offer a mix of retail and corporate which is possible because they would have an entrance or facade that is independent (not shared with any other operators).
St. Julian's Office Buildings
Office buildings can offer multiple floors of offices without an independent access from the road. These units usually share the common parts with other offices or in some cases residences, and can accommodate various companies within the same building.
Office buildings may be owned by one person or multiple owners meaning that there may be more than one decision maker involved in the running of the buildings. This may not constitute a problem per se, however in some cases, it could result in some lag in the upkeep of common parts, and indecision with items related to common use, like facade, elevators, etc. In situations where the office buildings are single-owned this may be a preferable arrangement in order t avoid unnecessary delays in the case of lack of effective communication amongst owners.
St. Julian's Business Centres
St. Julian's Business Centre almost always offer the uppermost quality and experience for companies looking for office space. The business centres generally offer an all inclusive package to companies looking for Offices in St. Julian's and most will include features like:
Manned Reception
24/7 security
Fresh-air systems
Air conditioning
Raised Flooring
Underground parking facilities
Uv Filtered glass apertures
Bespoke spaces that may be customised to client requirements
Standby generators
Maintenance support
Data Cabling
It support
Concierge services
When only the best will do, St. Julian's Business centres are a solution that will almost ensure that a company is provided with the best corporate commercial real estate experience possible.
St. Julian's Serviced Office Spaces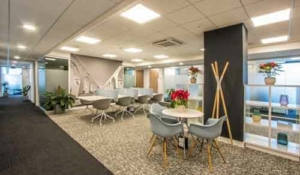 Serviced offices in St. Julian's offer companies the option of setting up operations within hours if necessary. These offices are fully equipped and ready to use. Plug and Play may be a good way of describing them as they only require a laptop and an operator to get going.
In serviced offices everything is taken care of by the administrator. All maintenance of the common parts and the private areas, reception facilities, utilities, internet, cleaning, insurance, furniture, tech, are taken care of to allow companies to focus their efforts on their business rather than setting up and running the office.
Serviced offices in St. Julian's are convenient for those companies who may be having lots of foreign visitors who they may be welcoming from their hotels In the vicinity, which is a popular reason for companies to choose a serviced office in St. Julian's rather than other parts of the islands.
Of course, lots of startups with young teams also love to be located in St. Julian's because of the identity of this location, since it is so closely associated with entertainment and nightlife – making it easy for them to transition from a day at work to a night (and possibly late early morning) at the bars and clubs.
St. Julians for Office Space, and as a lifestyle
St. Julians features numerous bars, clubs, discotheques, as well as restaurants, apparel stores, and the like.  The city also enjoys its own mall complex which goes by the name of 'Baystreet' and is situated in one of the busiest areas of the sub-location Paceville – best known amongst night-goers.  Baystreet is a popular destination for shoppers, and it is also a favourite with families thanks to the performances and activities that take place there.
The city of St. Julians is jam-packed with commercial property outlets which come in the form of cafes, bars, restaurants, shops, and offices.  The city also boasts the highest number of hotels per square metre in Malta and is a favourite amongst most of the workforce who make part of the bustling igaming industry.
Frequently Asked Questions about St. Julian's Office Space.
A helping hand for your St. Julians Office Space search
We've been operating in Malta's commercial real estate space for over 10 years and have a sound understanding of the St. Julian's Office landscape as well as the prevailing trends and practices in this sector of a fast-moving industry.
Thanks to this experience, we are in the best position possible to assist requests related to offices in St. Julian's and can guide our clients all the way from property sourcing to agreement evaluation and execution. We take on roles of Tenant Representatives, Landlord Representative, Buyer and Seller Representatives, and everything in between.
As consultants who operate in the St. Julian's (and it's vicinities) and having been in the business for several years, we will be able to indicate the current availability of offices and their approximate pricing range. In addition, we may also be able to share information about 'off-market' listings of properties that may be available in the near future as a result of changing company requirements. This dynamic results in space that may be available before a lease agreement may have expired. All this information would prove very handy if you're on the search for an Office specifically in the St. Julian's area as it will ensure that no stone is left unturned.
We advise that you make your search criteria clear during an initial call and share the most important and relevant information pertaining to your requirements.
If you're looking to rent St. Julians office space for your operation, simply request a callback and we'll be in touch in no time.