Offices in Malta's first high rise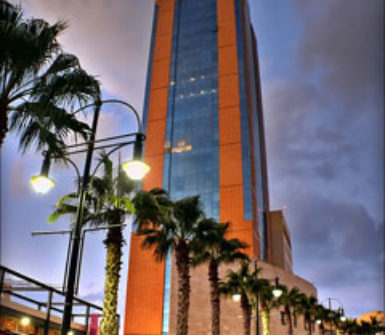 The 
Portomaso Business Tower
 Malta, located at the centre of St. Julians, was built just past Spinola bay, and easily the most visible landmark in all of Malta. It stands 97 metres tall at 23 floors and holds the record as Malta's tallest building. The Portomaso Business Tower was envisioned as a distinguished 
Business Centre
and a focal point as part of the Portomaso development. The 'Tower' can be seen from most towns and villages in Malta and hosts many industry-leading operators in their respective fields. St. Julians has elevated itself from a fishing village not so many years ago, to a weekend hangout for night-time revellers, and more recently, to one of the island's most important
commercial
centres. 
Tourism
maintains it's position as the most prominent industry in this area, with a high concentration of premium hotels, including some of the finest found in all of the islands – The Hilton hotel itself makes part of the Portomaso Development adding further prestige to the exclusive address.
Portomaso's Business Tower Neighbourhood
Together with the scores of Hotels in the area, St. Julians has a great selection of restaurants and bars for those looking for entertainment. It's also home to two of Malta's casinos. The Dragonara, as part of the Westin Dragonara Resort, and the Portomaso offering, situated at the lower floor of the Portomaso Business Tower Malta.
Thanks to numerous favourable attributes, like a skilled workforce and attractive tax incentives, Malta has attracted many operators from established and emerging industries like online gaming, information technology, legal, and finance industries. Many of these operators tend to favour areas like Sliema and St. Julians when evaluating their relocation options. The Portomaso Tower is easily the most desirable property in St. Julians, and as a result, office space within the tower is not that easy to come by.  If a swift relocation is the only way forward and waiting is not an option, there are also further equally attractive options for Business Centres in St. Julians which are worthy of consideration.
Working in Offices at the Portomaso Business Tower
As a work environment, the office space at Portomaso's Business Tower is hard to beat. The majority of the floor space at the Portomaso Business Tower Malta is approximately 300m2 on each floor. Larger spaces are available on the first six floors and these can accommodate operations looking for space up to 450m2.  As one would expect, the Portomaso Business Tower is equipped with 24-hour reception and features optional underground parking for its tenants. The tower has stand-by back-up generators for uninterrupted business activity, an invaluable asset in today's fast-moving world. A strong networking infrastructure makes part of the Portomaso Business Tower's backbone, and technical support is at hand when needed. The Hilton Conference Centre is also conveniently adjacent to the Portomaso Tower adding another notch to the list of attributes this development enjoys.
Looking for office space at the Portomaso Business Tower? Request a callback.