What to Know Before You Make Your Move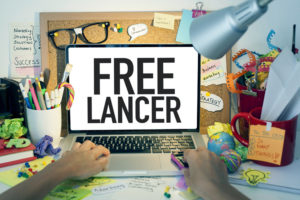 If you're considering packing up your office job and delving into the lesser-known world of freelancing, chances are you're experiencing both great excitement and nauseating terror all at once.
On the one hand, you're no longer tied down to a set weekly schedule or to an unpleasant boss; you get to make your own hours and be your own boss…what's not to like? However, with great freedom also comes great responsibility as we are so wisely reminded. You may ask yourself if you'd be able to handle this or if you'd do better to stick to the safety of your 9-to-5. There are several aspects to weigh up if you're thinking about taking this fateful leap
It's All About Networking
By going freelance, you get to make your living solely through your skillset. Unlike working for a company, this means having to take the time to find work for yourself and scope out people who are interested in hiring your services. Of course, promoting yourself online is a great start. However, don't underestimate the effect of meeting prospective clients in person and showing them just how valuable your work could be to them. Attending business-related events or even spreading your services through word of mouth is likely to boost your demand in no time.
Establish a good workspace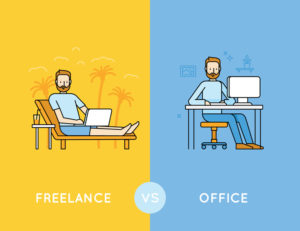 While not having to answer to a pushy, demanding boss Is one of the great benefits of working freelance, this also means you should be more self-disciplined and count on self-restraint to avoid procrastination and make sure you stick to your deadlines. Getting into a routine will take some getting used to but it's equally important to finding yourself a proper workspace where you can let your creative juices flow with minimal disruptions.
For some, working from home may be the obvious choice but this is not always the ideal solution for freelancers, especially if you share a living space with others. As a freelancer, it's still possible to work outside the home, from your favourite café for example. Moreover, many places are also starting to provide co-working and hot-desking spaces, a perfect option for fellow freelancers seeking out an office-like environment and mutual company while they work.
Set Boundaries
Without the routine of the daily 9-to-5 job, it's easy to get distracted as the lines between work and playtime become fuzzy and blurred, leaving you to organise your time as you see fit. Thinking ahead and planning your work schedule accordingly will leave you free to fit more desirable activities into your day. That being said, it's important to stick to your schedule and not fall victim to the temptations of your social calendar or you'll never end up getting any work done.
Without the regular coffee/cigarette breaks or office small talk of a regular job, procrastination for freelancers can be a dangerous downward spiral. Allow yourself small breaks and focus on completing one task at a time rather than trying to work on 20 things at the same time.
Keep Your Taxes in Check
As a full-time employee, bureaucratic aspects like taxes and NI contribution are generally taken care of by your employer and thus only serve as nuisances in that they cut down our pay-cheques and are otherwise given little thought.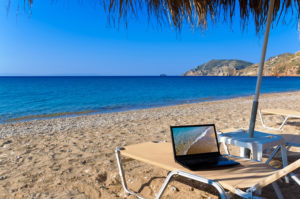 A freelancer, however, requires the knowledge to manage these pesky practices quite alone and unfortunately, ignoring them isn't an option as late or improperly-filled paperwork can result in significant fines. If you're considering going solo, make sure you're educated on all the necessary procedures beforehand as well as the relevant deadlines so you're always up-to-date with your payments. If you're at a loss at where to begin, consulting a good accountant can make all the difference with getting you off on the right track.
Additionally, a fixed income is no longer part of your reality and you might find yourself having to chase down clients to pay you; an awkward scenario no doubt but you're going to have to be firm if you want to get what is rightfully yours.
Moreover, freelancers should learn to embrace their own company as a working solo is a big compromise for some. Ensuring you're not overworking yourself and making time for pleasure (as well as business) is key to finding the right balance as a successful freelancer.