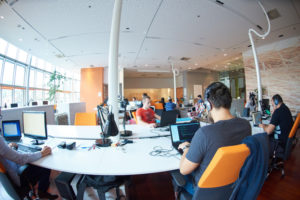 Malta has been hailed as a mecca for start-ups and flourishing businesses looking to grow their operations from a central European nation with excellent access to North Africa.
Providing companies with a professional business environment in convenient locations, you could do a lot worse than this tiny rock in the midst of the Mediterranean. What's more, shared office space has become more popular to meet the demands of the influx of foreign business to the island.
Check out the key elements to consider when you're conducting your search for a premium, customisable workspaces in Malta.
Duration
The question most tenants ask when it comes to renting out office space is how long you'll be needing it for. Some tenants may be reluctant to offer short-term contracts and this may affect your chances of securing that much-coveted office space for your business.
The advantage with shared office spaces is that whether you require the space for a month or several years, you get to choose the duration that suits your business needs. Some specialised office space companies also offer packages or 'pay-as-you-go' tariffs so you really get to pick the best option.
Size
The size of your workspace will be determined by the number of employees making use of the facilities. Once again, shared office spaces offer more flexibility in this respect. You might be starting out with just 1 or 2 employees. However, the demands of your growing business may require recruiting more staff, further down the line. Hence, this flexibility allows you to grow your workspace as your business continues to grow.
Type of Office Space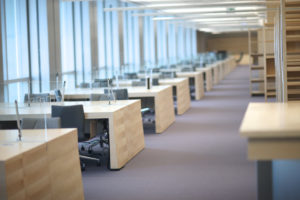 Your business needs may vary from that of your competitor. This is why the kind of offices you require will be quite unique to the size and standing of your company. Another benefit of modern office space means that nowadays, multiple facilities are provided to meet the business needs of different types of organisations.
Co-working spaces are without a doubt, the most popular form of shared office space. Similar to hot-desking, you only pay for the number of desks you use. Moreover, you would be working in close proximity with employees from other organisations, providing ample networking opportunities. This collaborative workspace environment is a cost-effective way to staff your business.
Additionally, virtual offices are also seeing a steep rise in popularity, as of late. This kind of office space allows tenants to establish their presence in any market in the world with a prestigious business address. However, it's not just an address you're paying for. Most virtual office plans also offer receptions services to take your business calls and receive your mail too.
Establishing office space in a prime location is a huge advantage for any business. What's more, a drop-in service for business lounges at this address is usually also included in the package. This can be useful if you're in town for a meeting.
While this type of space may seem strange at first, many businesses today do not require permanent office space for their business operations.
Use of Facilities
Most shared office spaces will also include full use of all facilities within the space. This allows companies to have an easy set-up that doesn't require additional administration work to be carried out.
Workspaces generally come equipped with modern, ergonomic office furniture. The majority also include a manned reception area to greet your guests. A communal kitchen including a coffee machine, microwave and more is generally a given.
You'll also get access to secure, high-speed internet and WIFI connection as well as office equipment such as printers, scanners and photocopiers.
Use of business lounges and recreation areas are also possible. Moreover, all utility costs are included in the rent price as are office cleaning and maintenance expenses. This kind of 'all-inclusive' office package can save you a lot of time and hassle in the long-run.
Location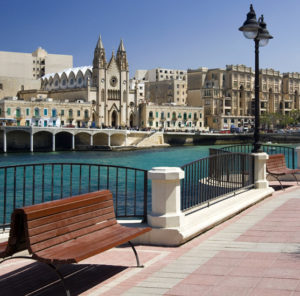 Co-working office spaces are generally located in the prime localities in and around the North-Eastern harbour of Malta. Towns like Sliema, St. Julian's, Valletta, Gzira and a handful of others have become commercial hubs for businesses from all industries. Having your offices in such locations will inevitably improve your business's image as well as mean convenient proximity to all amenities.
If you're on the hunt for shared office space in Malta, you'll be quite pleased to find a multitude of options at your disposal. To make the best decision, get in touch with a specialised commercial property agent. These experts will be able to provide you with the most viable choices for your business needs.