Wide open seas, easy parking

Smart City Offices Overview
Smart city Offices for rent and the entire project as a whole have materialised as a result of a joint venture between SmartCity and the Government of Malta.
SmartCity is a technology park that is located in Kalkara, along the southern shores of Malta.  The entire development covers an area of around 360,000 square metres and is made up of a mixed-use of commercial, residential and open spaces.
The business park presents a great opportunity for companies looking to make part of a technological business park with all the service offerings associated with such a high-level of commercial space offering.
Key Features of the Office Building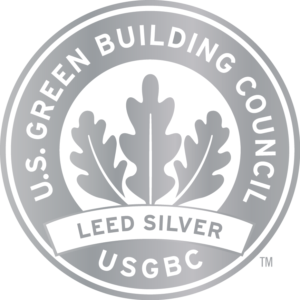 Offices at SmartCity Malta enjoy a technical infrastructure that has been designed to an international level and has in fact achieved LEED Silver accreditation. Businesses within the SmartCity
Business Centre
facility can rest assured that they will benefit from a cutting-edge communications network and will also have access to receive technical support and service offerings. The range is comprehensive and includes services such as consultancy, data centres, disaster recovery, business continuity and a host of other essential services for technologically dependent operators.
Office Tech Specifications at SmartCity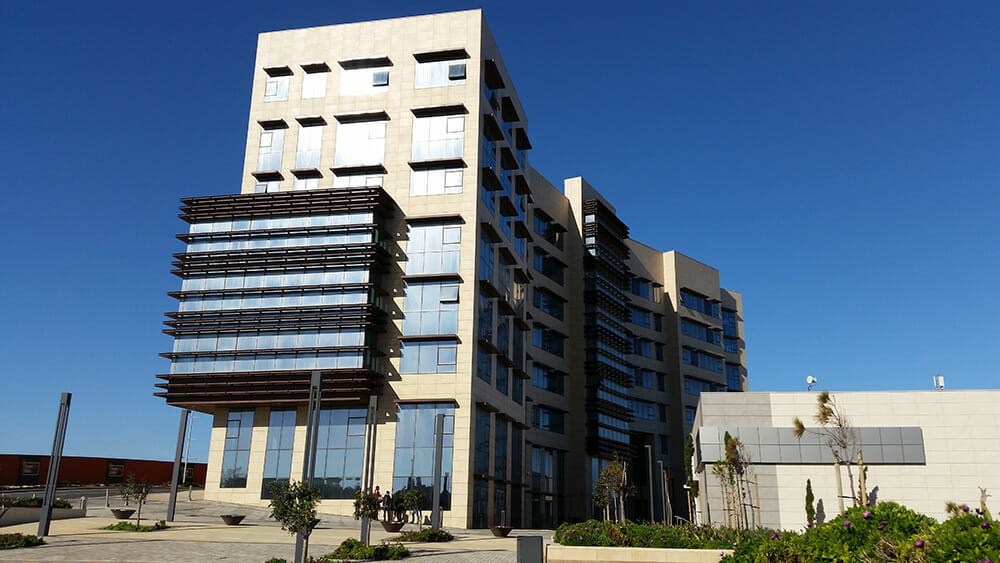 Smart City Offices are amongst the most high-end offices on the Maltese Islands and have been developed in such a way as to meet the most stringent industry demands for companies who rely on data as a core part of their business with numerous layers of redundancy to ensure maximum levels of business continuity.
The SmartCity campus is managed through the Central Campus Management System (CCMS) and is monitored and secured 24/7.
Thermal comfort and a high level of Air Quality is achieved through the use of HVAC systems that provide office tenants a filtered and controlled environmental experience.
Lighting is handled using an Intelligent BMS (Building Management System), which results in substantial cost saving and presents itself as a greener approach for lighting solutions.
Amenities at Smart City Office Blocks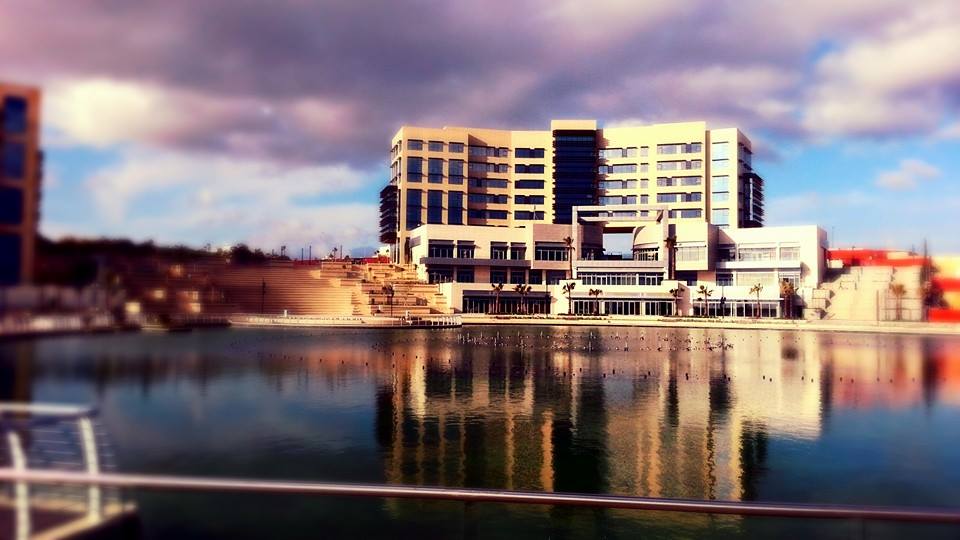 SmartCity has earned a reputation in Malta as a Prestigious address. Tenants in this business centre get to enjoy leverage off a more professional corporate identity and the office centre and mix of companies who are tenants there also present an outstanding networking potential for businesses.
The parking facilities are large enough to accommodate all the company staff, as well as any visitors they may be receiving.
Office tenants at Smart City will have full access to the Business Conferencing facilities that are provided within the building. These are to be booked in advance to maximise the experience for guests and speakers.
One of the key ingredients of Smart City's success as a business centre is the care it takes in ensuring the comfort of its tenants and the Office centre also provides an Onsite Child Care Centre to facilitate the schedules of employees who have children.
An Onsite Gymnasium makes life easy for health and fitness practitioners, as well as those who may have not found the time to allocate in their schedules due to logistical reasons. Keeping human resources in mind, having an on-site gym available for employees ticks another box in favour of choosing one work environment over another.
No respectable business environment would be complete without a suitable breakout area to cater for varying preferences and demands. Smart-city offers a selection of on-site restaurants and cafes available for their office tenants as well as for other visitors. Diners may choose to have a quiet meal indoors or sit out in the sun and enjoy far-reaching views.
Smart City offices for Rent will enable tenants to be part of an office building that has been accredited as a LEED Certified buildings, which means it has met stringent criteria related to green, sustainable and energy-efficient technologies and practices. Smart city Offices are the first buildings in Malta to ever achieve this desirable certification raising the bar and setting an example for other business centres on the islands.
The result of meeting such a high standard translates into lower operating costs for the office tenants.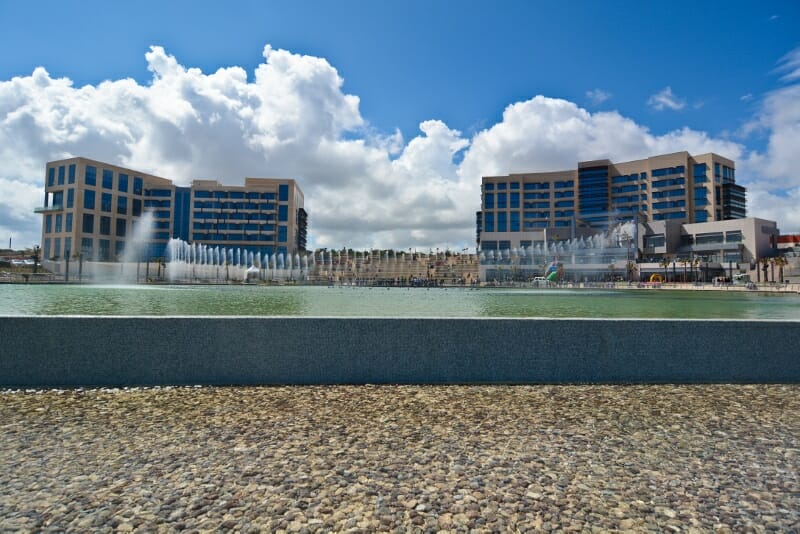 The Smart city office block labelled SCM01 is situated at the centre of the Smart City development and is across the Food and Beverage section, Event, areas, and extensive promenade.
Luxury sanitary facilities are available on each and every level and comprise of 3 cubicles for females, and a mix of 2 cubicles and 3 urinals inside the male section. A spacious toilet is also provided for persons with special needs.
Every floor within the Smart City Office blocks also features kitchenettes giving office tenants a much more efficient use of space, and a larger proportion of resulting Net Workable Office Area.
Finishes within the office block are of the highest specifications and standards and may be rented finished with tiles or carpeting and gypsum ceilings, or a step further to include furniture with board room and meeting rooms if so required by the tenants.
Parking facilities are strategically situated close to all buildings and disabled and low-emission vehicles are given priority in the parking layout – inline with LEED guidelines.
The facility also accommodates the need that tenants may have for extra space in the form of additional meeting rooms and offices for rent temporarily if so required.
Proposed Lease Terms & Options for Office Rentals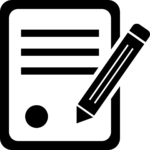 Tenants looking to upgrade their office environment will be spoilt for choice at smart city offices, with lots of variations to choose from. As regards to durations, arrangements can be made for short-term solutions as well as longer-term tenancies.
Tenants will benefit from a 24/7 manned security station, VIP area located within the reception, offices with direct sea views, laguna views, or country views if preferred, and spaces ranging from small units to several hundred square metres.
As is customary with commercial real estate practices, a security deposit will be required upon the signing of the lease, and this deposit is to be returned to the lessee at the end of the lease term – subject that all terms and conditions have been respected throughout its duration.
Apart from Rent, a service charge will also apply and will be proportionate to the amount of space rented. This service charge covers maintenance of the common parts, security, use of a generator, vertical transportation, life safety systems, house-keeping, and a host of other services provided by building management.
Looking for Offices to let in Smart City?
We can help you negotiate a commercial lease agreement to suit your company's needs and guide you through the office space rental process in Malta.  Get in touch with us on the contact form on our website for more information.