A Game Changing Development in Gzira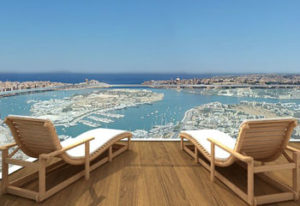 The Metropolis M-Towers & Plaza in Gzira is an avant-garde mixed-use architectural project made up of 3 towers and a central square featuring a number of residential and office space units as well as retail, and leisure facilities.  Possibly being completed by 2027, the Metropolis will be an easily distinguished landmark with its prominent M-Towers, the North Tower with 33 floors, the East Tower with 27 floors and the South tower with 13 floors. 733 car spaces in the underground parking facility will provide direct vertical access to the overhead apartments, offices, shops, leisure and catering outlets. Two towers will each have a restaurant and a helipad at roof levels to top off this exclusive development. This is truly one of Malta's most exceptional property developments.
Metropolis M-Towers & Plaza | Site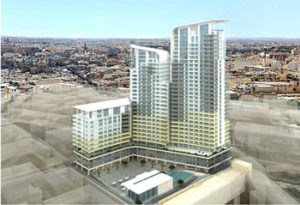 The stand-alone site chosen for the Metropolis M-Towers measures 6,674m2 and is surrounded by four Gzira streets which include the popular Rue D'Argens and Testaferrata, as well as secondary streets Triq Enrico Mizzi and Triq Giorgio Mitrovich.
The site selected for this spectacular development sits squarely between Malta's more popular business districts, being minutes away from Sliema & St. Julians, Ta' Xbiex, and Valletta. The site is also well connected to the main road network hub of this part of the island, being Msida. Msida is also home to the University of Malta, as well as the Mater Dei Hospital.
Thanks to the strategic location of this site, residents and workers within the M-towers will experience some of the most spectacular views in Malta including those of Malta's fortified capital, Valletta, the yacht marina at Ta'Xbiex, the inlet known as Sliema 'creek' and the historically significant Manoel Island.
M-Towers & Plaza | Apartments & Residential Units
Metropolis residents will have many facilities available to them giving them the ultimate in living comforts and convenience. The Metropolis plaza offers retail & catering outlets, training facilities, swimming pool and spa, an underground parking and a central lobby with concierge resulting in a secure and luxurious experience for residents and visitors alike.
Metropolis residential units are being housed in two mixed-use 'M-Towers' where two floors (ground floor and Mezzanine level) will be finished purely for commercial use and the remaining floors will be entirely residential. The Residential M-Towers include two and three-bedroom apartments, designer units being referred to as 'sky villas' as well as lush and spacious duplex penthouses. All units have been designed with space and brightness as top of the list priorities by the design team in charge of the Metropolis project – Dordoni Architetti (Milan). It's only natural that the most sought after units will afford breath-taking views of the island's eastern inlets and harbours & Malta's fortified capital, Valletta.
Residents will enjoy a wide range of facilities including retail outlets, swimming pool, gymnasium and spa, overlooking the plaza as well as breathtaking views of the Valletta fortifications, Sliema and Manoel Island.
M-Towers | Office Space & Commercial Units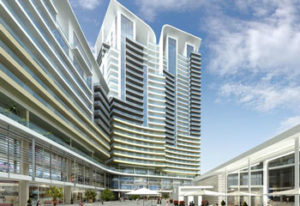 Metropolis Office Space consists of around 9,700m2 commercial use area which is spread across all the three M-Towers in Gzira. The two residential M-Towers each allocate the two base levels for office space and/or commercial property. This totals 1,500m2 of space in the individual towers resulting in a total area of 3,000m2 of office space on the ground floor and mezzanine levels within the residential M-towers. The commercial or Office M-Tower which sits at the middle of the three towers will include 6,700m2 of office space in total, where every single floor will be reserved for office space and commercial use. Apart from the office space available in the towers, the Metropolis development will also include a mix of retail and leisure outlets. An additional total area of 3,200m2 around the development's communal square or 'Pjazza' has been allocated for this purpose.
The demand for premium office space in Malta has seen a steady increase since Malta has joined the European Union in 2004. Since then, numerous operations have moved to the warm islands to take advantage of tax benefits, a sound economic environment, a well-equipped and versatile work-force, as well as many other factors that make Malta a desirable destination for commercial operations. The majority of businesses predominantly revolve around IT, Finance, iGaming, Insurance, and other service-based industries. The Metropolis Office Tower will surely become home a host of operators in such fields thanks to its location, facilities, and complete offering.
Metropolis M-Towers & Plaza | The hard numbers
9,700m2 – Office Space
4,265m2 – Public Open Space
4,275m2 – Retail Space (Supermarket & Showroom)
970m2- Catering Establishments
110 – Residential Units
733 Car Spaces
Secure your space in an up-market Malta Business Centre. Request a callback now.