Your business at the heart of Sliema seafront
Piazzetta Business Plaza Offices are located along the Sliema seafront in a Piazza in Sliema formerly known as Piazza Ghar il-Lembi. The historically significant building was constructed in the mid-1800s and has acted as a residence for many prominent figures in Malta's diverse history and later on also served as a Naval Family Clinic that catered for needs of the service personnel.
Fast-forward to this day and the building has now been redeveloped into The Piazzetta Business Plaza, Offices of the highest quality to meet the needs and requirements of 21st-century businesses.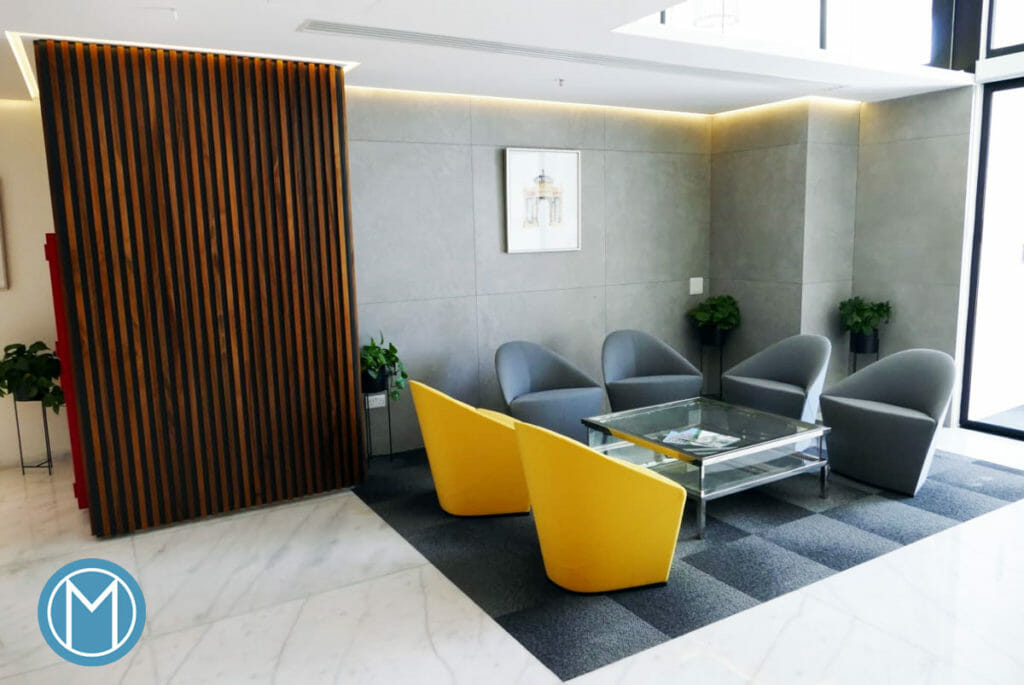 What are the features of the Piazzetta Office Block location?
Situated in the heart of Sliema, across open views of the deep blue Mediterranean sea, the Piazzetta Business Plaza Offices are surrounded by all the facilities that modern businesses may require.
Apart from a multi-storey car-park that facilitates hassle-free entry and exit into the office block, making getting in and out of the office a breeze, the Business Plaza is surrounded by lots of retail and catering outlets, some of which are on the Piazza themselves and make part of the property grounds.
The environment surrounding the plaza is professionally landscaped and great care and attention have gone into giving this business development a feel-good factor, whilst enhancing its appeal to blend in with its surroundings.
What qualities qualify the Piazzetta Business Plaza as a premium office block?
The main entrance of the Office Building features an imposing period facade that has been faithfully restored with artisan building practices from the days gone by. Past this facade is one of the most cutting-edge and technologically advanced business centres in all of Malta.
Upon entering the Piazzetta Business Plaza from its main entrance overlooking the piazza, visitors are welcomed by a double-height reception lobby, with luxury fitted waiting areas for visitors, and access control for tenants – with a receptionist available during offices hours, and security personnel available 24/7 at a secondary entrance area.
The main building of the Piazzetta Business Plaza is one that is designated specifically for office use and offers over 8,000m2 offices of the highest level available, with a good balance of internal and external space with most terraces enjoying breath-taking sea views and promenade views.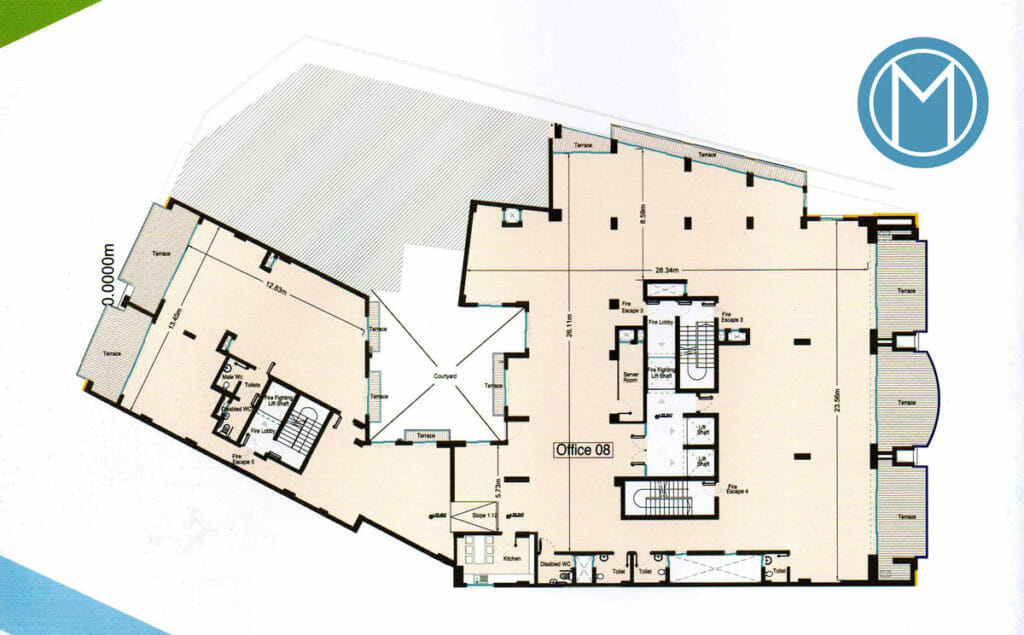 With floors offering net-workable areas ranging from 360m2 up to 1120m2, the office spaces available for rent within the Office area of the Business Plaza can handle requests by tenants looking for a variety of layouts from entirely open-plan spaces to clusters of offices that are in line with the tenant's operating preferences.
Office Reception, security & Common Parts
Security within the office block has been treated as a priority and tenants can rest assured that their visitors and themselves will have a grade-A experience every step of the way.
No expense has been spared in the Offices reception area with it's use of Marble all throughout, hardwood features, bespoke lighting and top access control systems, backed by complete video security throughout the common parts.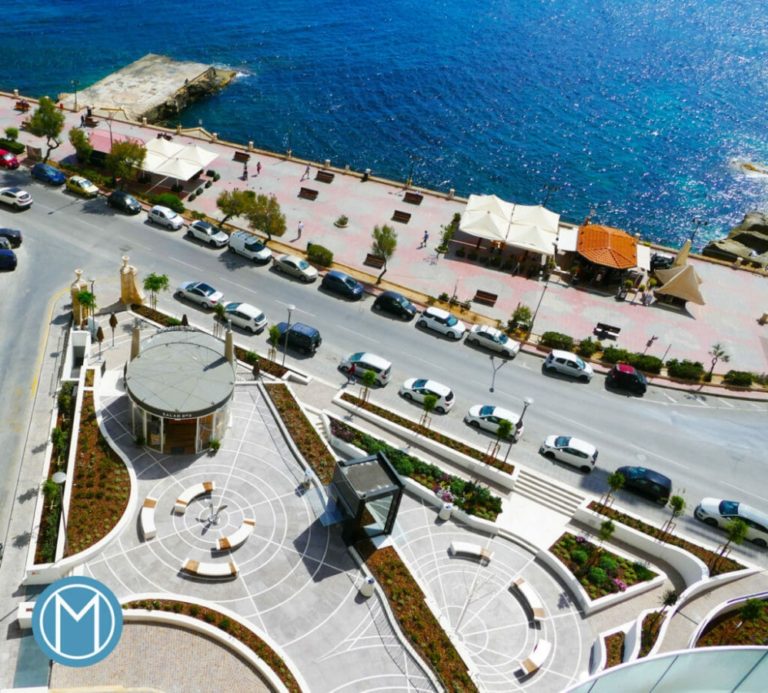 The core facilities and vertical transportation systems have been developed with strict criteria to adhere to current security and access standards, and high priority has gone in the design and implementation for the core be equipped with appropriate emergency evacuation systems and layouts.
Office Parking Facilities
There are a total of 260 parking spaces available for tenants and their visitors that are underlying the commercial development. Every single level of the underground parking is connected all the office levels and reception by use of the vertical transportation systems (elevators/lifts), thus offering a fully sheltered experience for access to the building and for vehicle parking. The office block is also equipped with an external drop-off point just outside the main entrance.
Piazzetta Business Plaza Office, Catering & Retail spaces for lease.
| | | | | |
| --- | --- | --- | --- | --- |
| USE | UNIT | LEVEL | INT. AREA (M20 | EXT. AREA (M2 |
| Office | Office 01 | Ground floor | 93 | – |
| Office | Office 02 | Ground floor | 110 | – |
| Office | Office 03 | 1st Floor | Leased | Leased |
| Office | Office 04 | 2nd Floor | Leased | Leased |
| Office | Office 05 | 3rd Floor (with mezzanine) | Leased | Leased |
| Office | Office 06 | 4th floor | 912 | 96 |
| Office | Office 07 | 5th Floor | 912 | 115 |
| Office | Office 08 | 6th Floor | 872 | 146 |
| Office | Office 09 | 7th Floor | 847 | 156 |
| Office | Office 10 | 8th Floor | 568 | 190 |
| Office | Office 11 | 9th Floor | 482 | 166 |
| Office | Office12 | 10th and 11th Floor (with Pool) | 360 | 338 |
| Food & Bev | PBP – F1 | Lower Piazza | Leased | Leased |
| Food & Bev | PBP – F2 | Upper Piazza | 35 | 50 |
| Retail | PBP – R1 | High Street | 111 | – |
| Retail / Office | PBP – R3 | Upper Piazza | 680 | – |
| Retail / Office | PBP – R4 | Upper Piazza | 62 | – |
Offices for Rent at the Piazzetta Business Plaza
If your company is looking to Rent offices in Sliema, we highly recommend taking you for a visit to the Piazzetta Business Plaza Offices. They are easily the most premium commercial real estate offering available in Sliema that provides tenants with full-service business centre facilities, breath-taking sea views, all within the cosmopolitan heart of Sliema.
Get in touch with us for a viewing of the Piazzetta Business Plaza today – We'll be happy to take you on-site to experience this unique office development and come up with a proposal to suit your company requirements.