Using Plants to Boost Moods and Productivity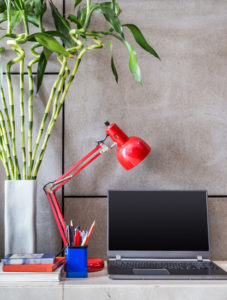 A cheap and cheerful way to enhance your office space is to bring a couple of plants into the fold. Research by leading psychologists has proven that employees work better when offices are equipped with a substantial number of plants since the green touch greatly aids creativity and productivity, and act as effective stress-busters.
The countless health benefits of indoor plants have been promoted for years now and with good reason; apart from being aesthetically pleasing, plants also purify the air quality by eliminating volatile organic compounds (VOCs), according to NASA, as well as boosting oxygen levels by absorbing carbon dioxide.
If you're not particularly green-fingered and are concerned about killing off all the plants before they can spread their goodness, fear not. Many classic indoor plants require minimum maintenance and can actually thrive away from direct sunlight and in dry office atmospheres. Moreover, some do not need much moisture to survive, so you don't have to worry about forgetting to water them.
Spider Plant
This plant looks great in a hanging pot with its bright green and white stripes on display. It also eventually grows smaller plantlet clumps out of long stems which you can break off and repot to produce more plants.
Snake Plant
Another low-maintenance plant that will thrive in most indoor environments with little water, it's also great at absorbing nasty toxins from the air.
Pothos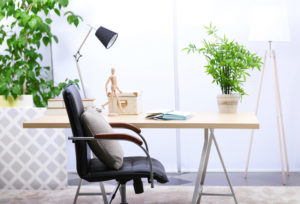 More of a vine, this plant will rapidly multiply lovely green leaves that will look stunning draped over wall partitions, bookshelves and filing cabinets. If you find the vines are getting too long, just trim them and stick the remains in water so they'll grow new roots which can be re-potted to produce more beautiful Pothos. Survives in low light and easy to care for, the Pothos is a must-have for any office.
Peace Lily
This classic plant is popular in many indoor spaces with little natural light since the peace lily grows better in the shade with little water. Apart from being easy on the eyes, this plant is also the best choice for improving air quality since it reduces more VOCs than any other indoor plant.
Lemon Balm
This sturdy plant gives off a fragrant scent that has been shown to boost moods, making it a must-have for any dull office environment. While it should be watered every few days, it can thrive in both sunlight or shade making it a versatile indoor plant.
Air plants
Although they may be considered more unusual, air plants have been garnering popularity in indoor spaces for being so easy to tend to. Requiring no soil at all, air plants are trendy indoor plants that can be displayed just about anywhere; in jars, on rocks or even mounted on the wall.
Cacti
While these prickly beauties require a minimal amount of water just once a week, they do depend on some sunlight to thrive. These can easily be placed in the areas of your office that attract natural light.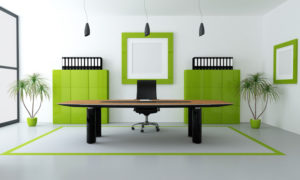 Sprucing up your offices with a few plants can greatly enhance the environment beyond an aesthetic level, affecting employees on a deeper psycho-physical plane. Moreover, it's a cost-efficient way to decorate and get back to nature while creating a serene atmosphere that reduces stress levels; what more could you ask for?